Get Sixfold Fantasy: A Collection of Six Complete Novels now on Amazon!
"Group projects" was the most dreaded phrase a professor could utter in college classes. In professional settings, it's "teambuilding exercises." Ick. Then, in interviews there's the loaded question, "do you prefer working independently or in a group?"
It's situations like that and the general assumption that I'm an introvert that made me think that collaboration was probably not for me. But then I thought of how much I enjoy being on sports teams, and that one time in high school when my BFFs and I tried to start a girl group like the Spice Girls. I'm still embarrassed that we sang in front of a couple musical artists we met, expecting to get discovered. It didn't work out, in case you're wondering. But we sure looked cute in our matching outfits.
The fact is, I do like bringing people together. I'm not the most organized person, but I'm enthusiastic and open-minded, and that's something. And although I'm cautious in making decisions, I am an oldest child, which I thinks make me a little bossy naturally. That attitude resulted in this collaboration project I'm excited to announce—a fantasy box set I put together with friends and fellow Chanticleer award winners!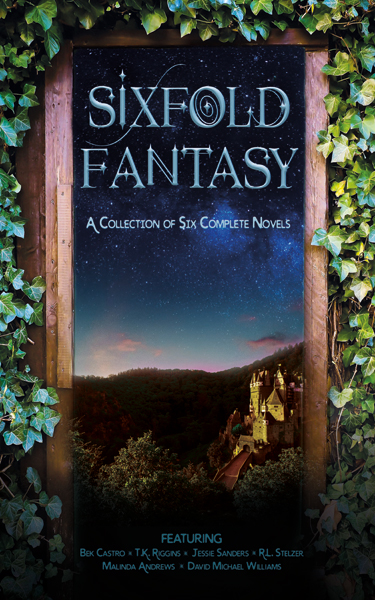 This six-book set includes:
Flowerantha by me
How to Set the World on Fire by T.K. Riggins, which has won several awards now (and counting), including the Chanticleer Grand Prize for fantasy.
Into the Flames by Jessie Sanders, coming in with many positive reviews! I'm looking forward to checking this one out.
The Queen and Knights of Nor by R.L. Stelzer, which was a Chanticleer first-in-category winner for middle-grade readers.
Through the Mountains by Malinda Andrews, my friend, first reader, and author of many great reads in a variety of genres. I couldn't imagine doing something fantasy-related without her!
Rebels and Fools by David Michael Williams, a new writing friend Malinda and I met at the Lakefly Conference.
While each story is in the fantasy or urban fantasy category, they range in age group from middle grade to new adult—something for every young or young-at-heart reader of fantasy!
This collection is available NOW on Amazon!
This isn't the only collaboration idea I have either! I would love to do some co-writing in the future, possibly with my local writers' group. We've toyed with the idea of writing a book together, each taking a different POV, but I know we all have our own things going on at the moment. Hopefully someday! I do think our voices would blend well and make for an interesting story.
P.S. – If you know where to look, you can also find my first collaboration project buried somewhere in the web—a Hanson fan fic my bestie and I wrote when we were 14 or 15. It's pretty classic.