Well, it's done. I finished the manuscript, converted it from Word to e-book using Draft2Digital (which was SO EASY—I highly recommend that method), and submitted it to the Chanticleer contest for Contemporary Romance. Wish me luck! 
Now I need to finish the next two books in the series before I publish this one. So while that's going on, I'm excited to reveal the cover to you!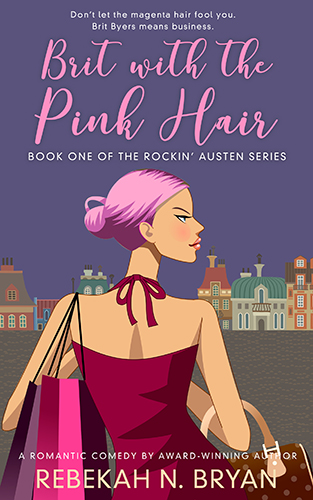 Here's the book description, which is not finalized:
A modern Emma Woodhouse, Brit is a well-meaning but sometimes single-minded heroine, who knows what's best for everybody.
Brit can spot a potential pop star from a kilometer away, and if she happens to make a match in the process, even better. Too bad her relationship radar needs serious re-calibrating.
Brit's father, Lonnie Byers, is an aging former rock star who now owns a nightclub in the hip entertainment district of Toronto, where the characters are as colorful as the city, while her absent mother runs a matchmaking business in Amsterdam. Though Brit has written off marriage for herself, she has no trouble trying to make it happen for her friends. She did have that one successful match, after all.
Through her successes and failures, Brit longs to be taken seriously by her parents, and finally settling on a career path might do just that. The only thing standing in her way is Cord Hutchins. He sure is cute when he's not trying to run the place. But Brit isn't sure whether Lonnie's friendly yet slightly stuffy employee is on her side, or trying to steal her father's company for himself. And she's not about to lose her father's empire to Mr. Too Perfect if she can help it.