Things to Bring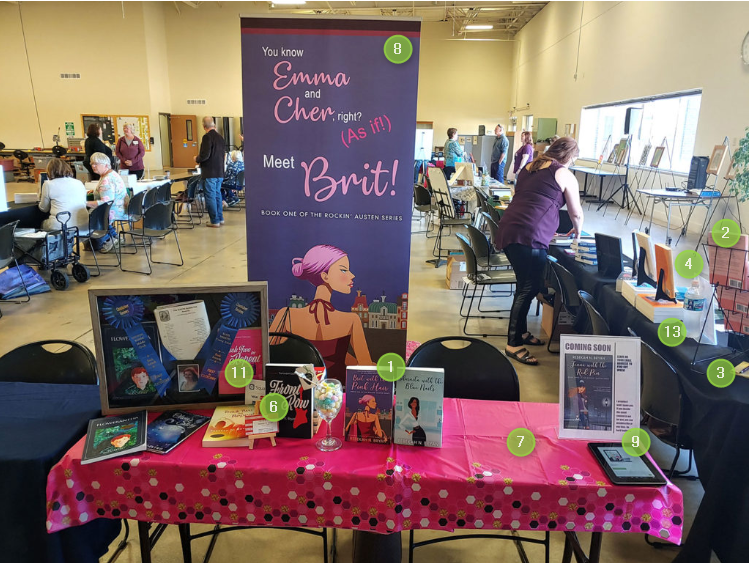 Books. Sounds obvious, but this requires the most pre-planning. See my story of woe below. How many to order? I personally have never sold more than ten of one book at an event, but if you're planning on going to more than one event, it wouldn't hurt to order more.
Book holders. I don't use them, but my friend Malinda Andrews has this really great tiered rack that she bought on Amazon to display her different series. You can see it on the far right in the picture above.
Pens or markers. To sign your books!
Price list or stickers. I've seen both used. I want to say price lists are more common, but I submitted my books to a book fair once that needed the prices on each one individually. As a result, I have a ton of stickers left.
Swag. I didn't have much (any?) swag this time because most of the stuff I have is more Front Row–centric, which is not what I necessarily wanted to push. But everyone loves swag. In the past, I've done guitar-shaped bookmarks and paperclips, G-clef bookmarks, and guitar pick stickers.
Business cards. These are good to connect with both other authors and potential fans. There are plenty of tips elsewhere for what to include on your business card to really stand out, but having something is better than nothing.
Table covering. Some places have white tablecloths, but others will expect you to bring your own table coverings. Find something that jives with your books. I simply hit up the party supplies section of the dollar store, texted my friend Barbara (of B Painted Face Painting, who I've mentioned before) a couple options, and she gave me her feedback. The pink worked perfectly with my books, and one of the organizers of the event commented that my table looked very welcoming. In the past, I've also used a colorful scarf in lieu of a tablecloth.
Banner. This is optional, of course, but it helps to get more eyes on you. You can get the free-standing kind (I got mine from Vistaprint) or a banner to hang on the front of your table.
Mailing list signup. Paper works, but I had some success using a tablet for signups at this past event. It's super convenient, and you don't have to transfer the information later and possibly misread people's handwriting.
Cash. Lots of small bills to give people change. I didn't have any at the last event. Luckily, my new friend Kerri Lukasavitz bailed me out for one transaction, and everybody else had exact bills or a card.
Square card reader. Another option for people to pay with. I believe the fees are cheaper if you swipe rather than manually type in someone's number. Also, I've heard the chip reader version is temperamental, but your mileage may vary.
Phone and charger. Another source of entertainment and necessary communication, of course. I also used mine as a hotspot for my tablet when people signed up for my mailing list.
Bottled water. Or beverage of choice. You're going to be interacting with a lot of folks. You will get parched. This is another thing I wish I had and ended up buying at the last event.
Other Things to Think About
Rolling suitcase. Holy moly was this a great idea. Up until recently, I had been hauling boxes to each event. I got this idea from Malinda Andrews, who got it from someone else. So worth doing.
Laptop and charger. If the day is long, it's good to have something to work on between customers, but don't be on it while people are milling around!
Outfit. I've mentioned this importance of this before, and my friend Margaret King actually listened to me and matched her book cover perfectly! (Haha, love ya.) I wrote more about this in my post about branding. If you feel so inclined, go for a fun, memorable, and consistent look. If you have questions or need ideas, I'd be happy to help.
Snacks. Especially for longer events. Stow a granola bar or maybe a banana for a burst of energy.
Makeup for touch ups. Also good for long events. For after you eat your snacks.
Mints, gum, and hand sanitizer. All good things to have when interacting with a bunch of people.
And now, a tale of two author copies.
This is so after the fact at this point that I don't know how much to go into, but authors, use this as a cautionary tale. I'll try to make it brief.
Authors can order copies of their own books at cost for proofing purposes or to sell them to readers in person. We pay shipping on these, and we can expect them to take at least a couple weeks to get to us. Knowing this, I put in my author copy order for 10 Brits and 10 Sharnitas 3-1/2 weeks before the event. I started to panic when a week before, they still hadn't shipped.
Running out of time, I decided to cancel my order and instead try ordering the books from Amazon using my 2-day free Prime shipping. Only problem with that plan was I could only lower the price of my books so much. Author copies would still be the smarter way to go, but I was desperate. I waited for the price to change and jumped on it. Two days later, books!!
Meanwhile, my friend Margaret was dealing with the same thing with her author copies. She took the initiative to contact both Amazon and KDP (two separate entities as far as support goes) and got varying stories as to where her books were. Thanks to her persistence, Margaret's author copies AND Amazon copies both showed up in time, barely.
So the lesson here is, plan WAY, WAY ahead, if at all possible. And be willing to either drop more money or get on the phone to make things happen if Plan A falls through.
Checklist graphic from www.graphicsfuel.com.